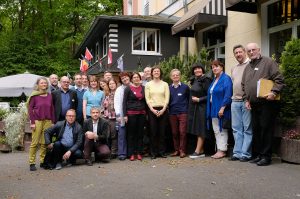 SAVE THE DATE: Second Members' Assembly from October 7th – 10nd, 2019 at the Orthodox Academy in Crete.
May 2017
First Members' Assembly of the ECC 
Grünau, Germany
For 2 days, 27 participants from 13 European countries came together in Grünau, near Berlin, Germany to evaluate as well as discuss the progress and the future of the ECC. One of the main topics was the new position paper, which will be published here shortly.
The members' of the ECC adopted the ECC Membership Fee Policy as well as the following Future Timeline: 
The call for applications shall be launched in the end of 2017/in the beginning of 2018. Churches, Christian organizations and their networks are then invited to apply to host the first ECC until the end of 2018. The decision will be taken by a members' assembly in the beginning of 2019. The ECC itself shall take place not earlier than in spring 2022 and not later than autumn 2024.
Additionally, they elected a new board to serve the ECC for the next three years.
If you are interested in the minutes or further information, please contact us here.
Some Impressions: